How do I say this without bragging? CNP has been named one of the Best Companies to Work For in Florida for the second year in a row! OK, that's definitely bragging, but we're still very proud to make the list. Over the past year or so, we've been working hard to refine our vision and internal processes in an effort to ensure CNP is a place that delivers GREAT work to our clients, but also is a place where our employees love to work. With 100 companies on the list, we moved up to No. 10 from the 27th spot last year in the Small Biz category (Cue applause).
Companies that participate in the annual Best Companies list undergo an evaluation of their workplace policies, practices, philosophy, systems and demographics, and they're featured in the August issue of Florida Trend magazine. From our open vacation policy to paying 100 percent of health care premiums, we want CNP to be among the best employers out there. We think this achievement, which was an all-out team effort, deserves some recognition – and maybe a little bit of bragging.
So, what have we been up to?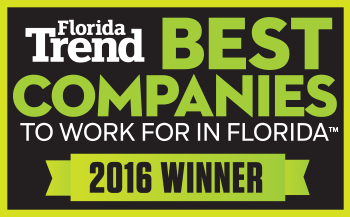 Well, we always advise our clients to push the envelope and look for new and innovative ways to reinvent themselves. The client, this time, was us.  We knew we had a collective of great people with even greater intentions, but we had never done the work to properly clarify WHO we are, WHY we do what we do and WHERE we are going in the future.
The first step was to refocus our long-term vision and define who we always will be, regardless of the type of work we are doing. This took the form of our five core values:
A sense of ownership – In client and agency challenges and opportunities. In our work, attitude, relationships, decisions, mistakes and collective financial success. An overflowing trash can? Even that.
Demand more from ourselves than our clients do – With the ultimate goal of taking them to a place they never would've gotten to on their own. We are proud to be self-motivated, impact-minded advocates for our clients' success. We are not proud to be order takers.
Humble competence – We speak confidently from our passion and the mastery of our craft. And yet we recognize our own limitations and respect other opinions. Ideas and recommendations are communicated with thoughtful candor and never thoughtless arrogance.
Continuous improvement – Lifelong learners. Making it better – then making it even better. Being open to what's possible, rather than what's not possible. In the quality of our work and daily habits. In our professional and personal potential.
One life to live – We understand that the see-saw of work/life balance can tip one way or another (sometimes at a moment's notice). The CNPOV is: Work hard when necessary, check out when necessary and keep things in perspective.
We also took an honest look at our internal processes and found quite a few ways to tune up the engine. It might seem counterintuitive for a firm with a bunch of fly-by-the-seat-of-your-pants creatives, but one of the keys to our recent success involves more structure and discipline. Two nasty words that, when implemented, paid off for everyone. I always tell the team that I want them to be creative with the actual work, not the process by which the work is executed. Our staff is more motivated, and we've reaching new clients, particularly in higher education and the tech industry.
You'll see more roll out in the next several months – new brand identity, new website, new systems, client-friendly work processes and, ultimately, GREATER work.