There's no greater thrill than delivering a beautiful product that just plain delivers the goods. Whether it's in the form of leads captured, time saved, or customers' delight, the slickest marketing in the world means nothing unless it brings home the bacon, and our new site for this luxury sports travel company does just that.
As the longest running official Tour de France tour operator, Custom Getaways creates extraordinary international travel experiences for cycling fanatics. With a badly outdated website and sophisticated competitors moving into their niche, owners Chris and Geraldine Hardy knew it was time to make a serious investment in their online marketing.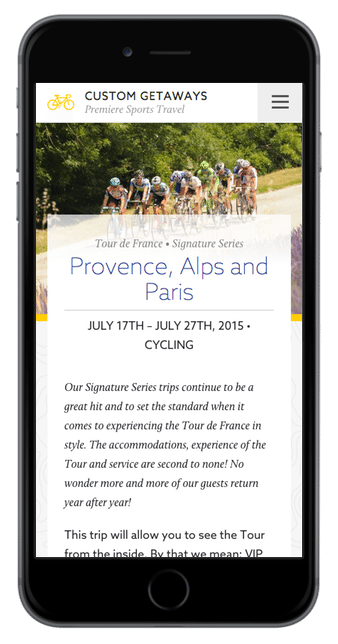 CNP's web design and development team swung into action and this past March the new Custom Getaways website made its debut. Key improvements included a fully responsive design that performs beautifully on mobile and tablet devices, a completely redesigned information architecture to make browsing their trips easy and intuitive and a major upgrade to their content management system.
We think the results are spectacular, and apparently, so do the website's visitors. A year over year comparison of key website metrics shows major improvements across the board.
Organic first-time visitors – a critical traffic segment for any business that generates leads online – saw a 56% improvement in average visit duration, which amounts to over a full minute longer visitors are spending on the new site. This high-value segment also saw a 38% drop in bounce rate, which plunged from 60% to 37%.
While it's a bit early in their travel season to compare bottom line growth, Chris and Geraldine report they're getting more inquiries than in previous years. They also report a considerable improvement in the time it takes to create and publish new trips. What used to take 20 minutes or more per trip now takes 5. These add up to a big win in our books!
Congratulations to Custom Getaways on their stunning new site and Vive le Tour!