DVC Resale Market
Magical Results for a Timeshare Resale Broker
Founded in 2014, DVC Resale Market has quickly grown to become the leading independent reseller of Disney Vacation Club (DVC) memberships. Seven months into launching their business, the company enlisted us to improve their search engine visibility. The project eventually led to a complete website rebuild and marked the start of a long-term business relationship that still continues to this day.
Services & Expertise Content Strategy, Marketing Strategy, Media Planning, SEO & Digital Marketing, Web Design & Development
Industry Tourism & Travel
The Brief
Develop an online marketing plan to help DVC Resale Market claim and maintain the top position in a rapidly evolving digital landscape.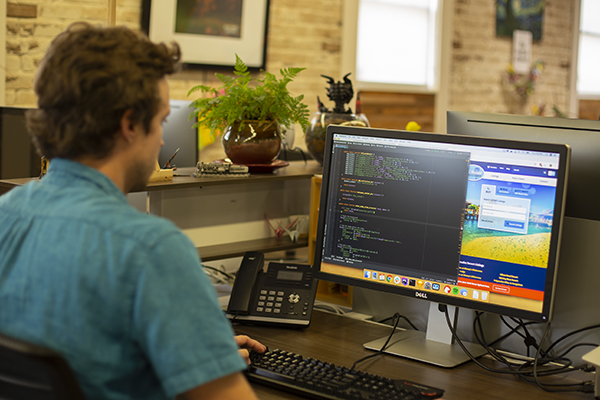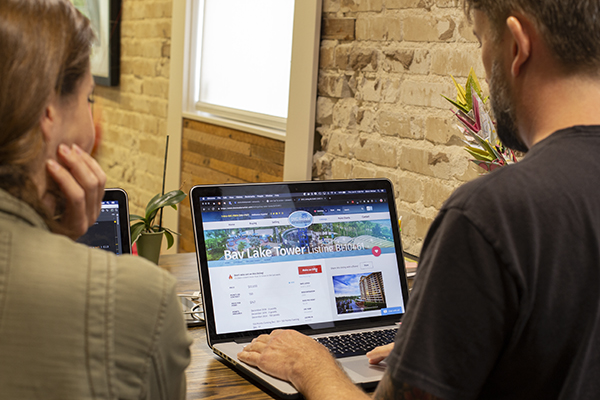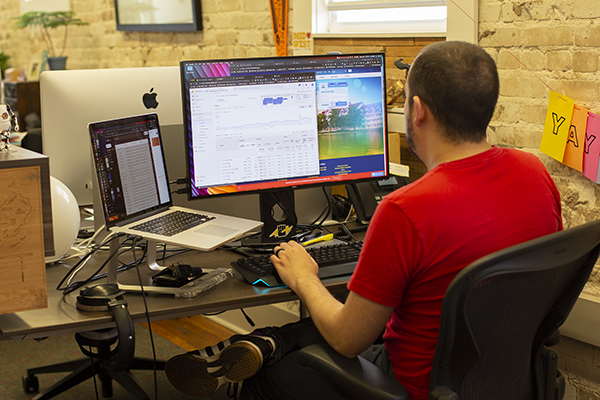 The Approach
Create a new SEO-focused website that can grow with the company. Build a robust content library to help position DVC Resale Market as authoritative experts in their space. Ensure continuous improvement through ongoing monitoring and proactive recommendations.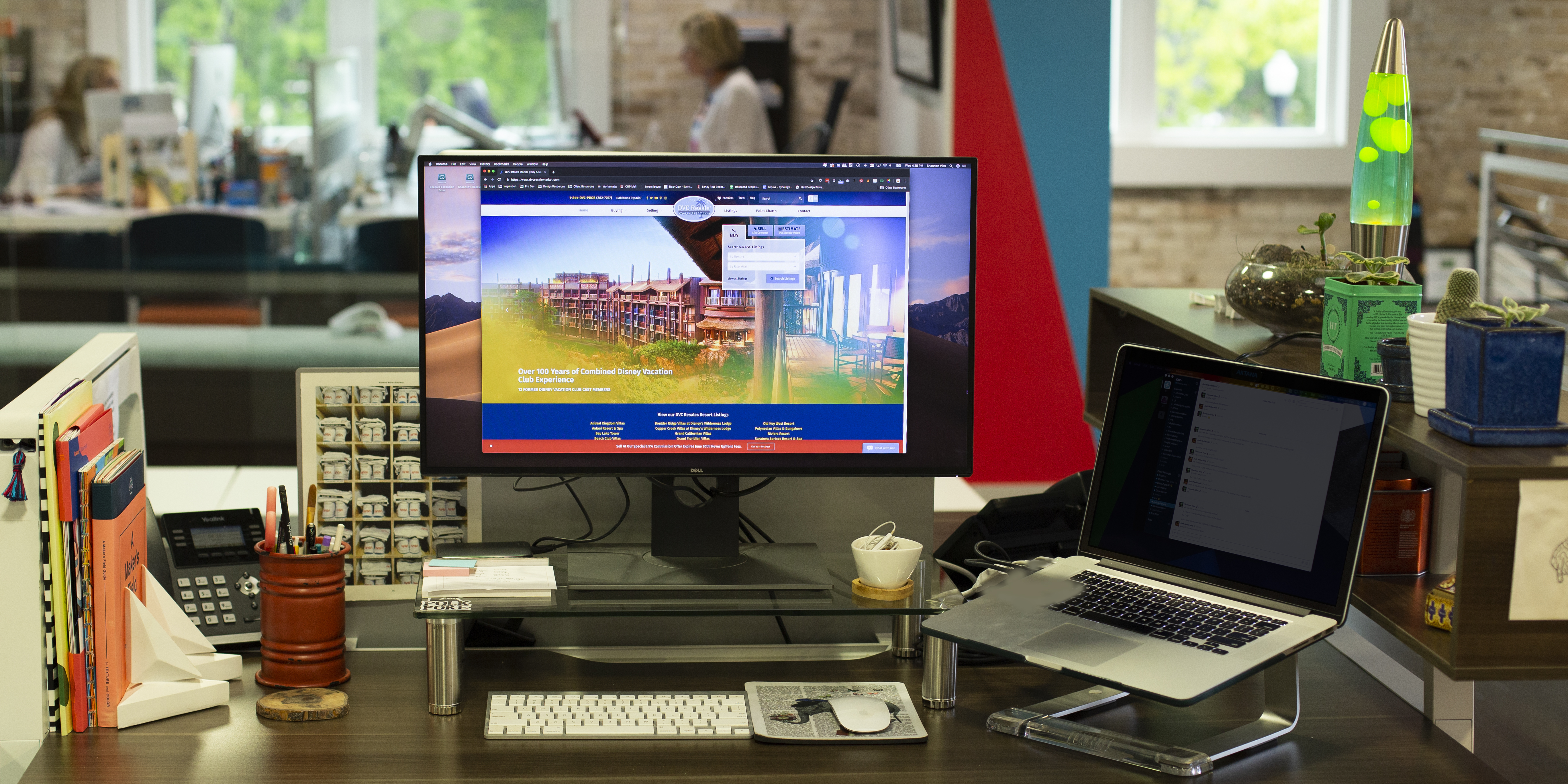 A best-in-class website
When 100% of your sales start online, having an eye-catching, on-brand, super-functional website is a must. The new, custom site we built for DVC Resale Market is well-organized, visually distinct from their competitors' sites, and also offers expanded features and user tools, including a patent-pending contract price estimator.
59%
Increase in Total Pageviews

165%
Increase in Visits to Listings Page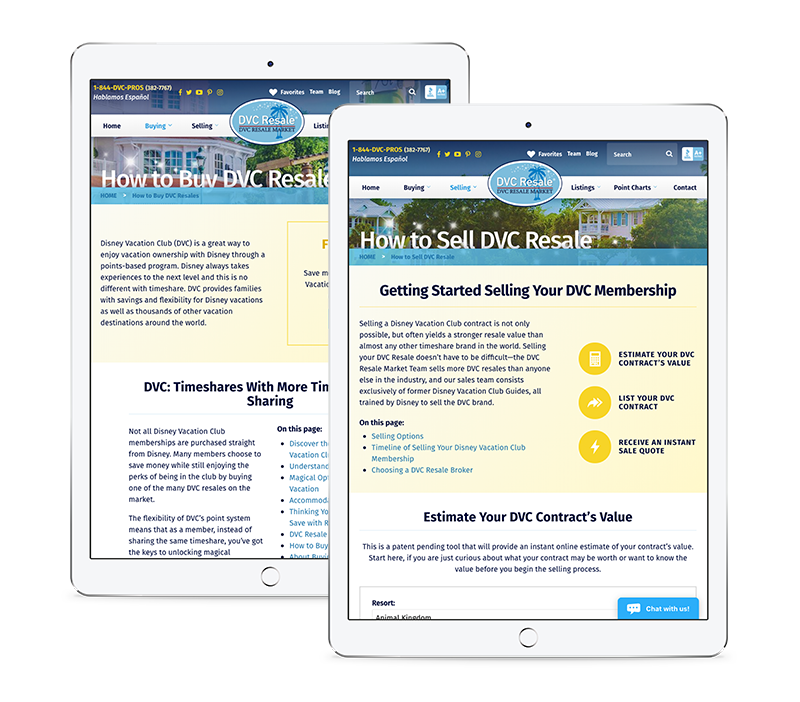 Cranking up the rankings with landing pages
Long-form landing pages aren't just a helpful sales tool, they do a good job of educating individual audiences and speaking directly to their needs. We built user-friendly landing pages tailored to the client's two primary audiences, buyers and sellers. The landing pages helped direct increased traffic to other key informational pages throughout the site, which in turn helped them compete for a broader range of high-intent keywords.
Quit while you're ahead? We would never.
Post-launch, we implemented an ongoing series of technical and content optimizations to ensure the new site would only get better with age.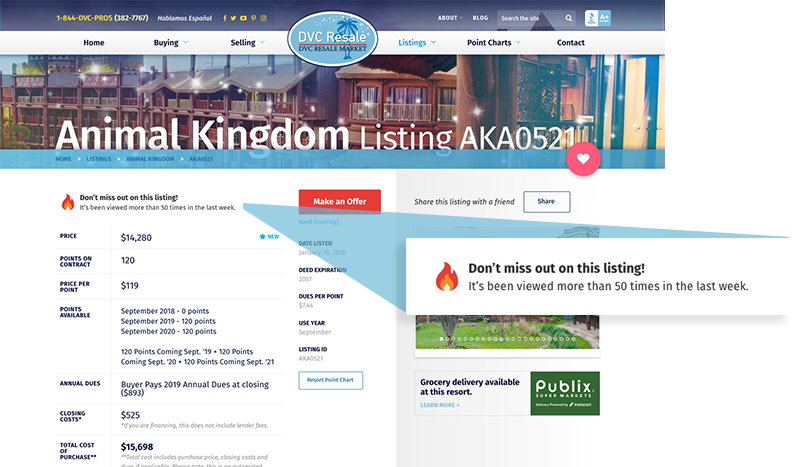 A view counter generates a sense of urgency and drives conversions. We also incorporated a "favorites" function for an improved user experience.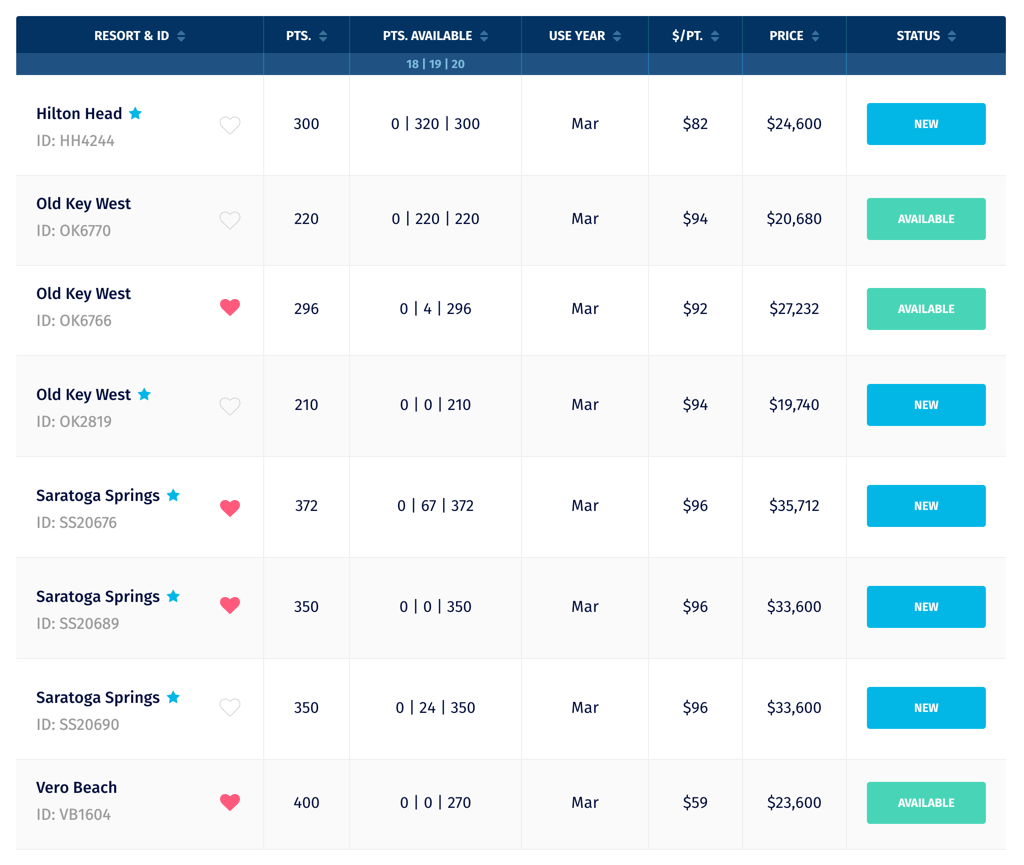 We added a Mega Menu to allow for better navigation of the fast-growing site.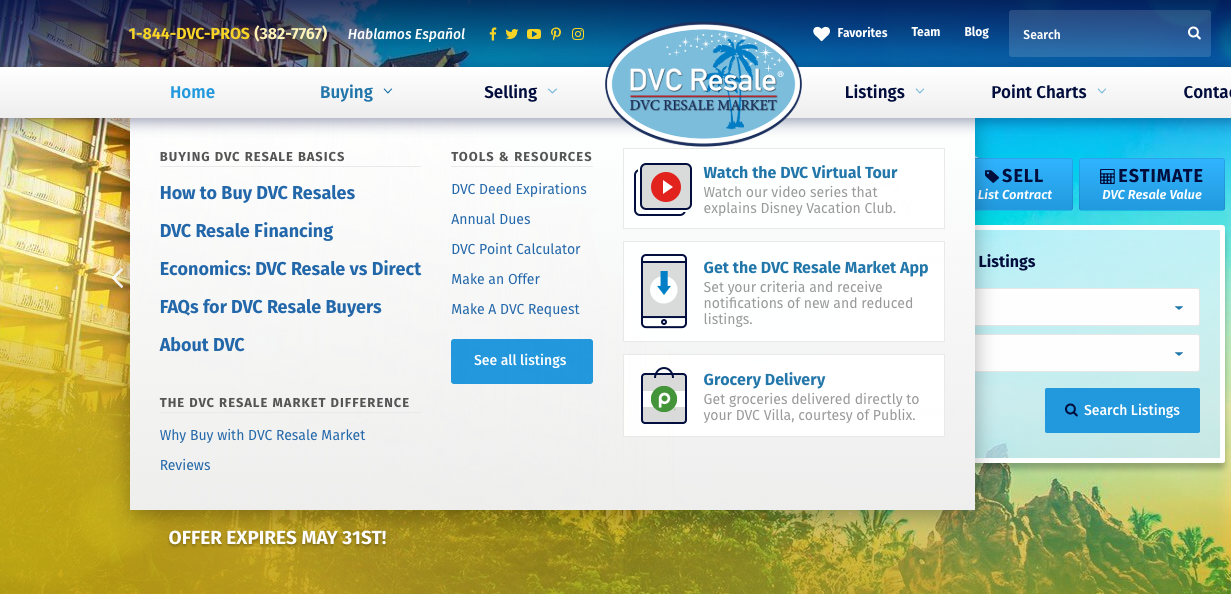 We also optimized the homepage schema for Google's Featured Snippets.
209%
Increase in Search Visibility YOY
The Results
Now, DVC Resale Market has a flexible website that functions impeccably, looks great and converts more potential buyers than ever. One year after launch (2016-2017), DVCResaleMarket.com achieved substantial gains in organic traffic, with more users visiting the site overall and a higher frequency of visits per user. In a mere matter of months, the website successfully claimed the first-page, first-position spot on Google's search engine results page, where it remains today.
40%increase in organic users
"CNP delivers white-hat SEO strategies with great results. Partnering with their team gave us the tools we needed to steadily improve our rankings and secure a leading position within our very competitive industry."
Nick Cotton
Partner/President, DVC Resale Market